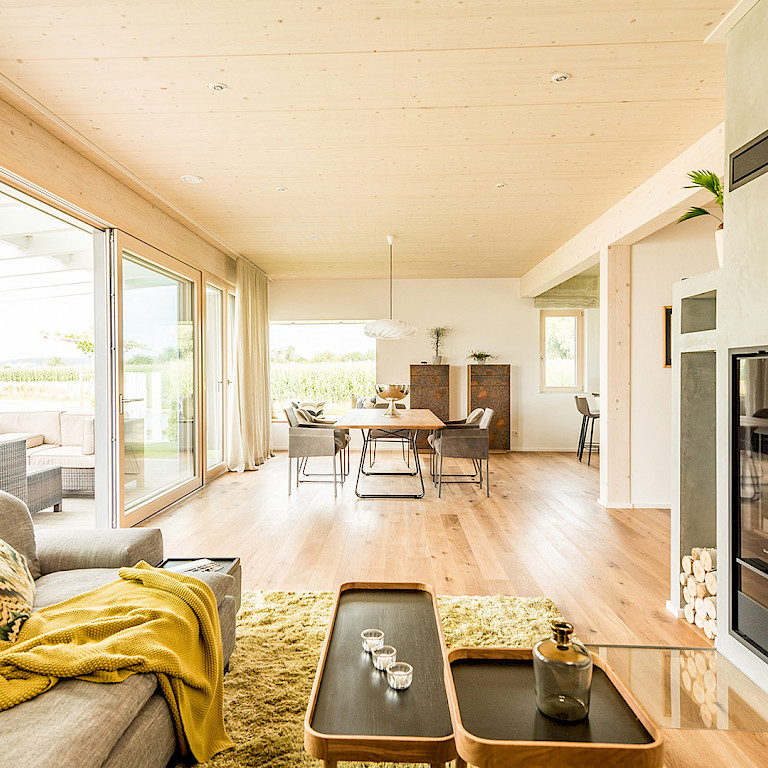 High-quality glazes & design for lasting impressions
Colour finishing, design & protection
Our best wood roof and ceiling systems are available factory-coloured or glazed as transparent UV protection. With the sustainable colours, we remain true to our motto of a healthy home, as the elements are natureplus-certified even with colour application. They are available either sanded or rough-sawn and are supplied with a self-adhesive laminating film to protect them during the construction phase.
Wood as a coloured dream - for natural comfort
For interior use, our paints are characterised by first-class building biology properties. The glaze preserves the natural hygroscopic properties of the wood. Thus, our roof and ceiling systems ensure a natural and pleasant indoor climate.
mineral matt
water-based
solvent-free and plasticiser-free
open to diffusion
sustainable
natureplus-certified
for a good room and living climate
Colour and structure variants
The high-quality glazes enable an even coating through a machine application. In contrast to other paint systems, the application of the paint preserves the natural, moisture-regulating properties of the wood.
For long-lasting UV protection
The transparent stain UV protect is also applied by machine and therefore evenly. It impresses above all with its natural matt appearance with UV protection and preserves the natural, moisture-regulating properties of the wood.
Note: The colour and product illustrations do not necessarily match the real colouring. Wood is a natural product. Colour deviations due to different structure and grain are possible and characteristic.
Colour and texture samples for end customers
Experience live and in colour? Send us an e-mail at info@schneider-holz.com. If required, our field service team will be happy to visit you in person and answer all your questions about our CLT and BSH ceiling elements. Sample orders for colour and structure selection are also possible.
We look forward to your enquiry!
ACOUSTIC DESIGN PACKAGE
For exclusive impressions
Now available for elements CLT - CEILING, CLT - BOX and CLT - ROOF!
Saw cuts 2/6 mm
Distance between the saw cuts is 50 mm
Element widths are available from 900 to 1200 mm in 50 mm increments
New: AQUA PROTECT - the preliminary protection for your ceiling elements
The coating AQUA PROTECT, specially developed for best wood SCHNEIDER for the top of your ceiling elements, serves to protect against moisture during the open construction phase. The innovative coating is water-repellent and solvent-free. Element joints, penetrations and recesses must be masked off.
Certified quality
Like all our products, our roof and ceiling elements with paint application are natureplus-certified. natureplus is the international quality mark for sustainable living and building products, tested for environment, health and function. The natureplus quality mark stands for health compatibility, environmentally friendly and energy-efficient production, conservation of finite resources and fitness for purpose. Products with this label are predominantly made of renewable raw materials or raw materials obtained in a nature-friendly way. Demanding independent tests and Europe-wide strictest limit values for indoor air quality guarantee the harmlessness of the certified products.
Additional paint application for joists or mullions
Do you need additional colour for untreated joists that should match the ceiling colour? Or do you want to treat parts with the transparent UV protection? No problem. You can order the glazes and the necessary tools from us and simply apply them yourself. Please refer to our leaflet on the colour treatment of building components.
Trainings
In our training course, you will get tips & tricks for working with our colour-finished ceilings and processing TIMBERBASE and TIMBERCOLOR.
Note: Currently only available for German speaking customers.
Products
best wood SCHNEIDER ceiling systems
Your personal contact for your region.
We are happy to be there for you!
Please enter your country and postcode to find a sales advisor for your region.