Fast. Precise. Inexpensive.
Joining of ceiling and roof systems
Finished ceilings - adapted for all needs
Everything from a single source is your best wood PLUS.
Our BSH, CLT and CLT BOX ceiling elements can be provided with a variety of cut-outs, edge profiles and recesses, for example for ceiling spotlights, risers or stair holes. Precisely and efficiently manufactured in high quality.
The factory trimming saves processing the ceiling elements on the construction site and thus ensures fast construction progress. In addition, e.g. drill holes and saw cuts can be made at a defined angle, which would not be possible on the construction site or only with great effort. Due to the computer-assisted processing in production, the joinery is carried out precisely and efficiently in high quality.
Advantages
almost all conceivable cut-outs, edge profiles and recesses are possible
precisely and efficiently manufactured in high quality
no time-consuming processing on the construction site
Possible edits
Drillings
Millings
Grooves
Rebates
Bevel cuts
Notches
Mortises
Slots
Routings for wood-concrete composite ceilings
and much more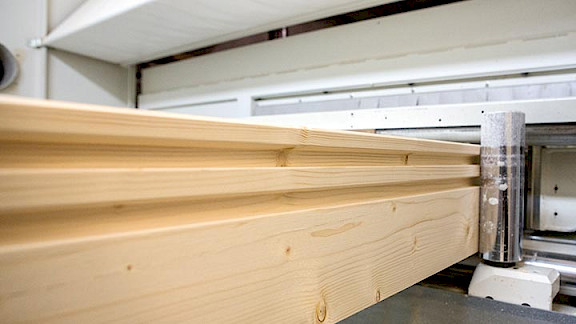 Lifting systems Drilling directly ex works on request!
SIHGA PICK lifting system for up to 20,000 load cycles. Minimum timber thickness: for flat lifting ≥ 80 mm, for face lifting ≥ 90 mm.