best wood TOP 140
Pressure resistant and weatherable
TOP 140 is a pressure-resistant and weatherable wood fibre insulation board for use as a rainproof sarking. It can also be used very well as weatherproof facade insulation. Due to the use of paraffin (wax), TOP 140 is hydrophobic throughout. The surface is equipped with an anti-slip latex coating.
The application of nail sealing tapes is not necessary. TOP 140 is to be laid on pressure, and no joints. Even the smallest joints have to be closed with best wood underlays-adhesive sealant FDM TOP before installing the counter batten.
Advantages:
Increased strength in the outer area of the above-rafter insulation
Due toour unique production process, our TOP can be used on both sides and we have two identical surfaces with increased strength. This results in less waste during installation.
Can be exposed to the weather for up to 12 weeks
Temporary weatherproof on-roof insulation (for roof pitches of 15° and more, classified as ZVDH class 3)
Anti-slip latex coating
On the surface with slip-resistant latex coating for more safety on the roof for your employees
.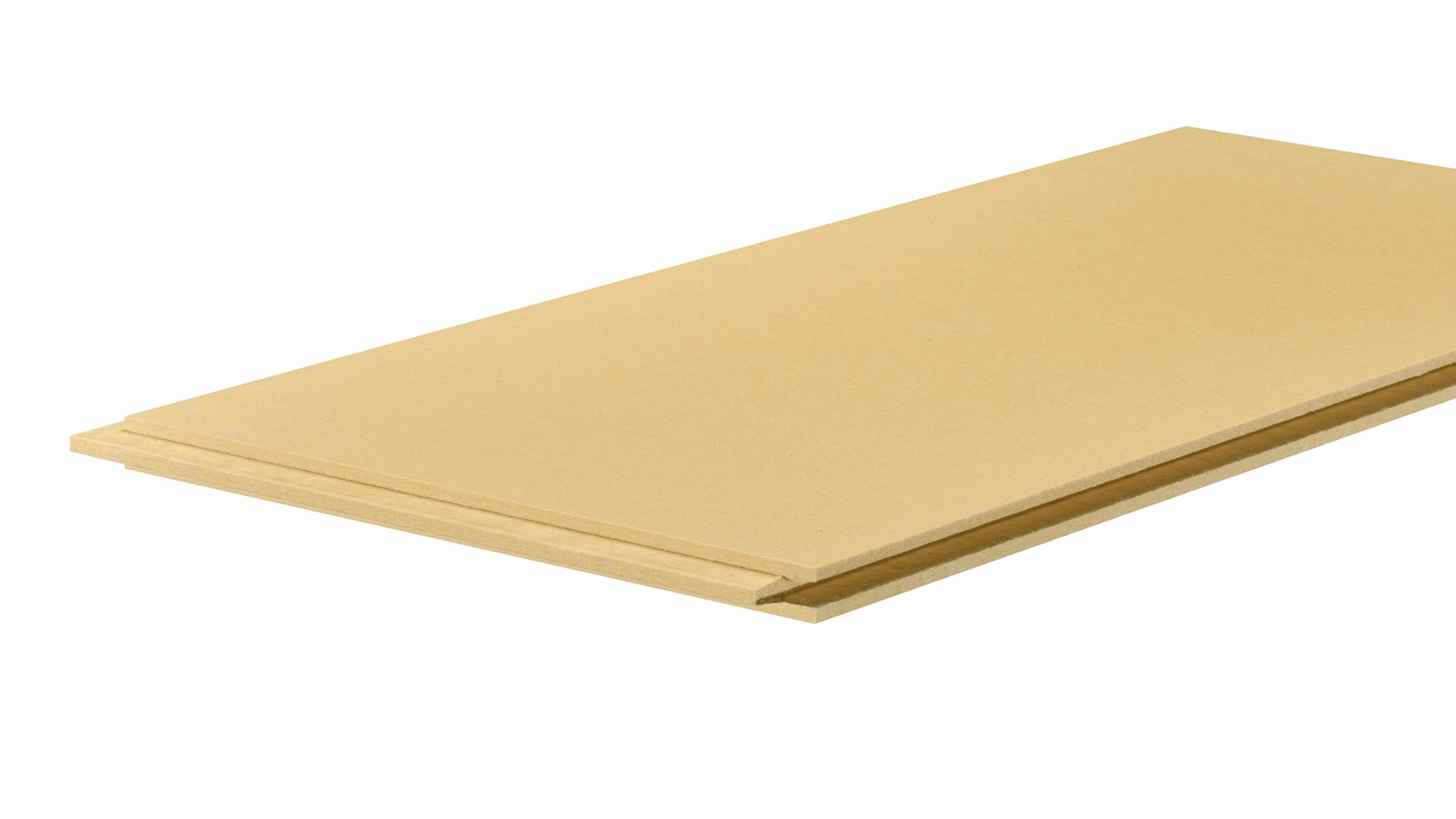 0.040 [W/mK]

Nominal value of thermal conductivity λD according to DIN EN 13171

0.040 [W/mK]

Declared thermal conductivity λD according to SIA 279 (Switzerland)

0.042 [W/mK]

Rated value of thermal conductivity λB according to DIN EN 13171

140 [kg/m³]

Density
Temporary weatherproof on-roof insulation (for roof pitches of 15° and more, classified as ZVDH class 3)
According to an expert report of Holzforschung Austria, TOP 140 is suitable for application as a rain-tight subroof in accordance with ÖN B4119
Water-repellent sarking board for roof and wall
UDP-A according to ZVDH
Areas of application according to DIN 4108-10
DAD-ds, DAA-ds, DEO-ds, WAB-ds, WZ, WH
Format (mm)

580 x 2000

80

100

120

140

160

180

200

220

240

Thickness (mm)
| | |
| --- | --- |
| Bezeichnung Dämmplatte | WF-EN13171-T5-DS(70)2-CS(10\Y)100-TR20-WS1,0-AF75-MU3 |
| Norm | EN13171 |
| Rohdichte | 140 [kg/m³] |
| Nennwert der Wärmeleitfähigkeit λD | 0,040 [W/(mK)] |
| Bemessungswert der Wärmeleitfähigkeit λB | 0,042 [W/(mK)] |
| Brandverhalten nach DIN EN 13501-1 | E |
| Baustoffklasse nach DIN 4102-1 | B2 |
| Volldeklaration | Holzfasern, PMDI Verleimung, Paraffin, Latex |
| Herstellungsverfahren | Trockenverfahren |
| Druckspannung bei 10 % Stauchung | ≥ 100 [kPa] |
| Zugfestigkeit senkrecht zur Plattenebene | ≥ 20 [kPa] |
| E-Modul Druck E(d) | ≥ 1,45 [N/mm2] |
| Wasserdampf-Diffusionswiderstandszahl μ | 3 |
| LängenbezogenerStrömungswiderstand | > 75 [kPa·s/m²] |
| Kurzzeitige Wasseraufnahme | < 1,0 [kg/m²] |
| Spezifische Wärmekapazität | 2100 [J/(kgK)] |
| Abfallschlüsselnummern nach AVV | 030105, 170201 |
Heat protection
Wood fibre insulation materials from best wood SCHNEIDER® are true experts when it comes to protecting against heat radiation on hot summer days. Especially in the roof, the natural wood fibre insulation stands out in contrast to other insulation materials due to its comparatively high mass and its high heat storage capacity. The large amounts of heat energy from solar radiation are absorbed by the wood fibre insulation material and thus do not even reach the interior. The storage capacity (2100 [J/kgK]) ensures that the peak temperature on the inside occurs with a time delay, only at night (phase shift), where it can then be efficiently dissipated by night ventilation. In addition, the temperature of the inside of the building component is significantly reduced, which ensures fewer temperature fluctuations and a pleasant room temperature at any time of day or year.
Wood fibre insulating materials for on-roof insulation are therefore also popular for the renovation of old buildings. They offer various solutions for efficient and uncomplicated conversion.
Cold protection
Wood in itself has a very good insulating value. The wood fibre insulating materials have small air pockets that have an insulating effect and thus ensure very low U-values. Wood fibre insulating materials from best wood SCHNEIDER® thus provide excellent protection against the cold, which keeps the heat in the house and reduces energy costs.
Moisture protection
Wood fibre insulation materials are open to diffusion. This means that they are vapour permeable and prevent harmful moisture accumulation. Water vapour in the interior is therefore not simply blocked, which can lead to mould and damp rooms. Up to 15 percent by weight of moisture is temporarily stored in the porous wood fibres and can be released again via the diffusion or capillary path.
In case of moisture penetration from the outside, e.g. rain, the hydrophobic paraffin content (only 0.5 %) in all best wood SCHNEIDER® insulation materials prevents the penetration of water. Moisture is thus repelled by the insulation layer and runs off on the surface.
Compressive strength
best wood SCHNEIDER® produces insulation thicknesses up to 240 mm. The insulation material impresses with its consistent quality made from fresh spruce coniferous wood. Production using the dry process has proven to be an excellent solution for an equally high compression-resistant surface on both sides. This means that the boards can be walked on on both sides and are therefore easy to process.
Here you will find popular accessories for this product.
Here you will find everything that is right and good for working and processing our insulation products.