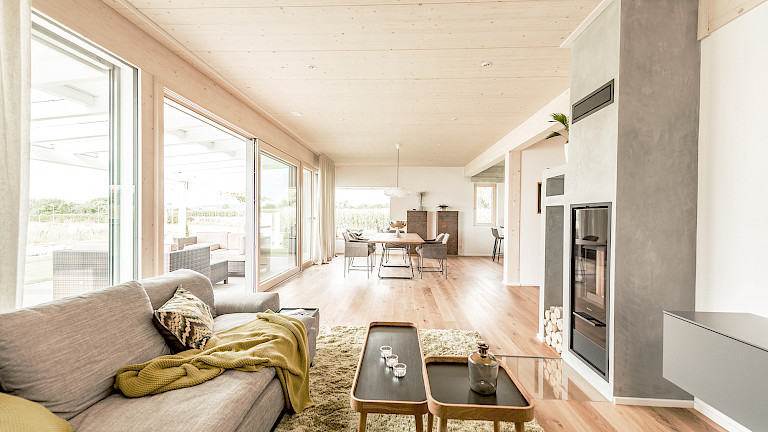 Sustainable timber construction at the highest level
The single-family house with KfW 40 Plus standard
The single-family show house in Altshausen scores on the one hand with its KfW 40 Plus energy standard and luxurious fittings, and on the other hand it offers an extraordinary living climate.
Obviously, the best wood GLULAM - CEILING with a delicate white glaze and a rough-sawn look contributes to this. The hidden good feeling, on the other hand, comes from the insulation with the best wood WALL 180 and the blow-in insulation best wood FIBRE. The insulation forms the solid basis for an ultra-modern energy concept. Finkhaus GmbH from Altshausen has been very happy to use the efficiency advantage of blow-in insulation with wood fibre since the construction of the show house. The colour-finished ceilings are also well received by their clients.
All the rooms exude a natural charm with visible wood. The joists in the rooms with soft white ceilings were subsequently finished with the same colour.
In combination with an air-water heat pump with controlled ventilation, the show house achieves an annual primary energy requirement that is already 60 percent below the reference value. Coupled with a 7 KWp photovoltaic system with 6.5 KW of storage, which generates more energy than the building services consume, the Petra show house becomes the perfect PlusEnergy house. This year, the building was nominated for the German Show House Award 2019. We are keeping our fingers crossed that it will succeed!
88361 Altshausen, Germany
Planning and implementation
Directly to the products used