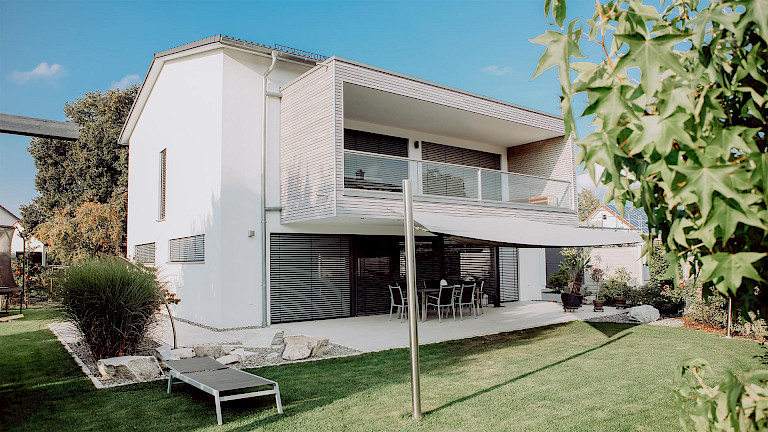 A house "made of best wood"
KfW Efficiency House 40 Plus
All in one best wood SCHNEIDER

In this property, pretty much everything best wood SCHNEIDER has to offer in terms of wood, insulation and accessories was installed. You could say: This is a SCHNEIDER house."
The modern single-family house in timber frame construction, located near Biberach, scores with great looks and with the KfW 40 Plus efficiency standard. The installed wood fibre insulation offers optimal protection against heat in summer and cold in winter. This not only saves energy, but also actively contributes to climate protection thanks to the high proportion of wood used. Another highlight are the visible glulam ceilings with built-in best wood lighting systems, which immediately transform the modern house into a home.
The building was plastered with a scratch plaster structure, and the plaster façade with a white fir cube is an eye-catcher. A generous terrace invites residents and the green garage roof also bees to linger.
A residential building that combines ecological aspects, design and cleverness - and in which one can simply feel good.
Kuon Architektur & Franz Walser Holzbau GmbH
Franz Walser Holzbau GmbH
The building is impressive not only because of its cantilevered terrace, which can cope without any support. But above all, it is characterised by a lot of light and warm wood, which contributes to an appealing living climate inside and out.
Directly to the products used