Ausgezeichnet: best wood CLT BOX – DECKE FS erhält Gold-Award
ARCHITECTS´ DARLING® kürt best wood SCHNEIDER
Zum zehnten Mal in Folge stellten sich fast 200 Hersteller der Bauindustrie dem kritischen Urteil von Architekten und Planern bei den ARCHITECTS´ DARLING® Awards. best wood SCHNEIDER® nahm zum ersten Mal am Wettbewerb Teil und darf sich in diesem Jahr stolzer Sieger der Kategorie "BESTE PRODUKT-INNOVATION ROHBAU" nennen. Die CLT BOX - DECKE FS zählt mit dieser begehrten Auszeichnung zu den Lieblingen deutscher Architekten und der Baubranche.
Die Preisverleihung der Awards führte die Heinze GmbH am 16. November 2020 erstmals im Rahmen einer Online-Veranstaltung durch. Die Übergabe des Architects' Darling Award "Phönix in Gold" erfolgte wenige Tage später am best wood SCHNEIDER Firmensitz in Eberhardzell. Hier nahm die Geschäftsleitung den Preis mit grosser Freude persönlich entgegen.
Bedeutende Bau-Innovation mit 100% Weiterempfehlung
Die CLT BOX – DECKE FS überzeugte die Jury durch die höchste Gesamtzufriedenheit, die nach einer Umfrage bei sensationellen 100% Weiterempfehlung lag. Darüber hinaus darf sich das innovative Hohlkastenelement mit einer "hohen Bedeutung aus Architektensicht" schmücken, wenn es um den mehrgeschossigen Holzbau geht. Weitere Vorteile wie Bauzeitverkürzung, Nachhaltigkeit und die sehr guten Brand- und Schallschutzeigenschaften des Bauproduktes ergänzten die Begründung der Fachjury aus renommierten Architekten.
best wood WEBINAR zur Lösung im mehrgeschossigen Holzbau - jetzt anmelden
best wood SCHNEIDER bietet Architekten, Planern und Interessierten Online-Seminare an, in dem sich alles um die preisgekrönte Bau-Innovation dreht. Teilnehmer erhalten einen Überblick über Möglichkeiten in Anwendung, Statik, Schallschutz und Brandschutz der smarten und nachhaltigen Holzbauweise mit der CLT BOX – DECKE FS.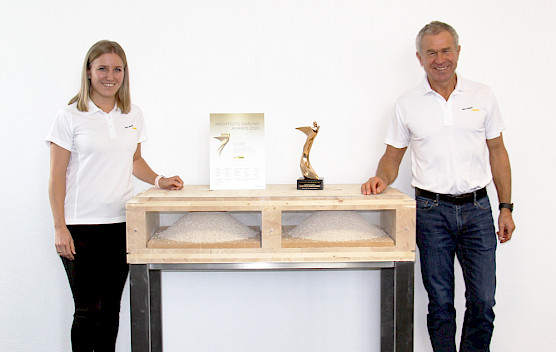 Carmen und Ferdinand Schneider (Geschäftsleitung) mit dem Architects' Darling Award "BESTE PRODUKT-INNOVATION ROHBAU" für die best wood CLT BOX – DECKE FS.
Matching products
Discover the matching products in the best wood SCHNEIDER range right away.